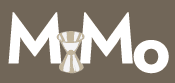 We're happy to join in on the monthly online cocktail party known as Mixology Monday. This month's MxMo is hosted by Filip of Adventures in Cocktails, and the theme he chose for is Niche Spirits.
"June's theme will be "favorite niche spirit", so any cocktail where the base ingredient is not bourbon, gin, rum, rye, tequila, vodka etc would qualify. So whether you choose Mezcal or Armagnac get creative and showcase your favorite niche spirit."
Here at Wang Chung's, we're going to feature an original cocktail created by one of our patrons, Tanis. It's called "Ginger 'N Maryann" and features Domaine de Canton Liqueur.


"Domaine de Canton is a French ginger liqueur comprised of eau-de-vie and VSOP and XO Grande Champagne Cognacs, which themselves are produced using fresh Tahitian vanilla beans, Provencal honey and Tunisian ginseng. The ginger comes from fresh, baby Vietnamese ginger and adds a wonderful flavor profile to this unique distilled spirit."
We love using fresh juices here, and what makes this cocktail unique is that we use locally fresh squeezed pineapple juice from Govinda's. If you've never tried fresh squeezed pineapple juice, the first thing you'll immediately notice is the thickness followed by the super fresh flavor. It's a life-changing experience. Govinda squeezes gallons and gallons of fresh juices every morning, and do so without pasteurization and destroying the flavors and enzymes in the juices. The shelf-life is so much shorter, but the flavor and quality is unbeatable, and we all deserve to have the best tasting cocktails with the best ingredients!
Ginger 'N Maryann
1.5 oz Domaine de Canton Liqueur
1.5 oz Cointreau
1 oz fresh lime juice
top with fresh pineapple juice
Serve over ice in Collins glass, garnish with lime wedge